Our 5-step Approach
The 5-step approach has been inspired and based on discussions with the PGA's of Europe, national golf associations and leading industry golf experts.
The main goal is to create an infrastructure overview where amateurs and professionals, golf players and non-players, the elderly and the young, the abled and disabled can play golf in whatever form they see fit. Creating enthusiasm for the sport and enlarging the scope of the sports facilities.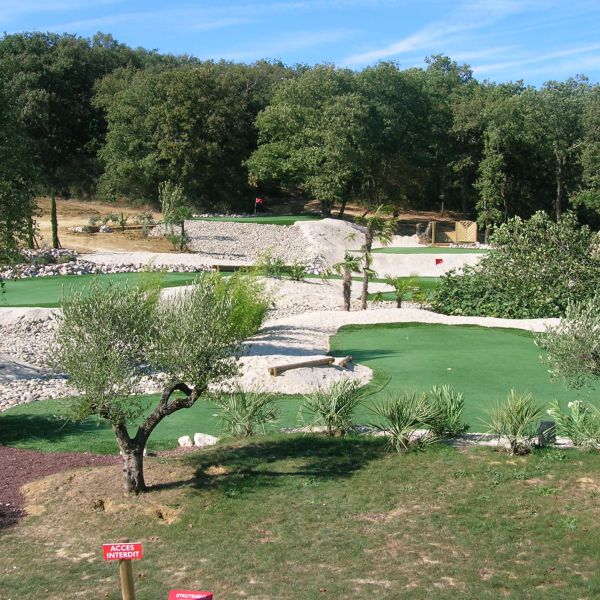 Step 1 - Putting Green & Hitting Cage
An easy solution for anyone anywhere is the creation of a practice green at home, club or office. As a mobile solution or as integral part of the surroundings, a synthetic golf green allows you to train and practice golf putting and chipping.
Mobile greens, based on a panel system, are usually used between 4-50 square metres. Synthetic greens, based on crushed stone, differ in size between 50-200 square metres.

The hitting cage is a very useful supplement to a putting green. It allows you to get a feeling towards "hitting" the ball and getting a feel for the golf swing. A proper hitting cage has an aluminium based frame of at least 9 x 30 ft with proper golf & weather resistant netting.


Step 2 - Academy Facility
The academy facility is an indoor or outdoor structured approach towards group playing and teaching. The surrounding can be a golf club, a hotel or be golf school orientated. The size of the academy varies between 600-2000 square metres depending on the availability of space and investment. The academy facility consists of 3 different areas where the three basic skills can be practiced.
A putting green to practice putting
The hitting cage to practice hitting
The chipping green towards practice chipping and approach shots.
At the European Golf Academy groups of up to 20 people can learn how to play golf. It provides an ideal base to begin learning golf in any area, district or country. In joint collaboration with IGD ltd (International Golf Development) we can also provide teaching methods and SNAG equipment.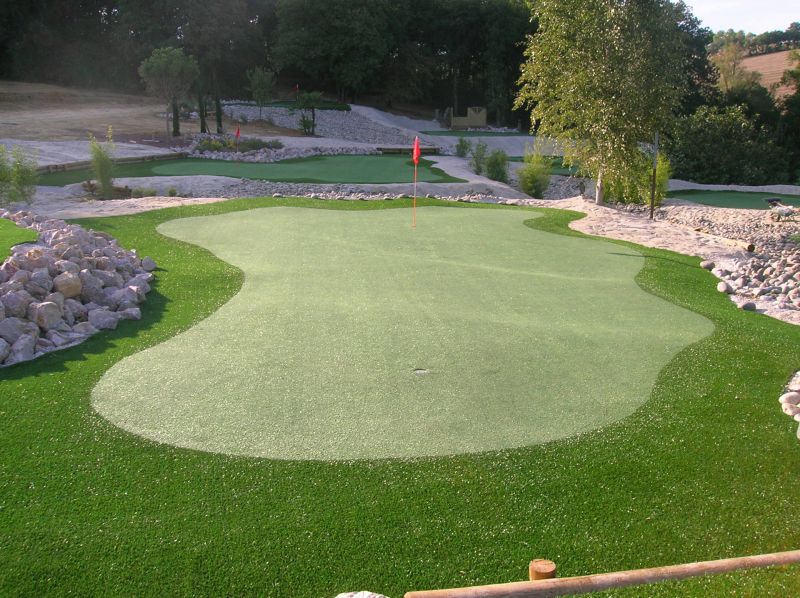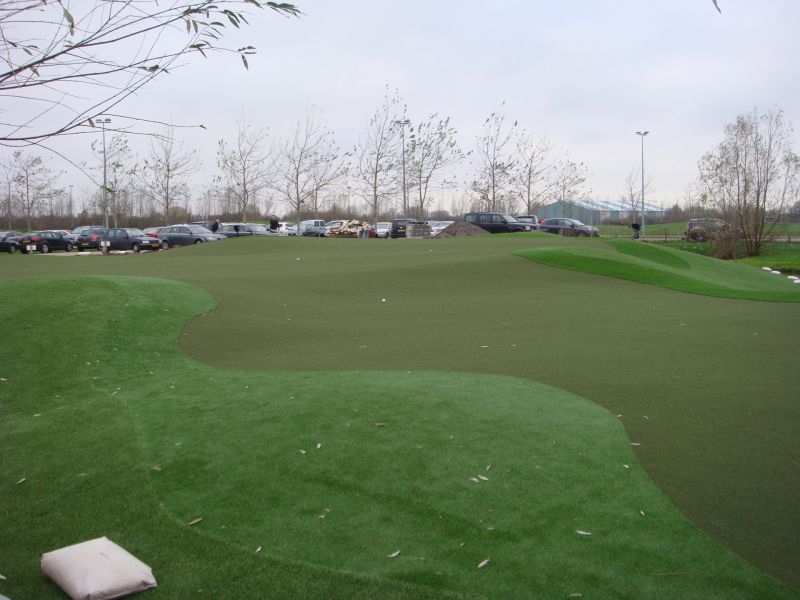 Step 3 - Adventure Golf
In step 3 all the elements of step 2 are combined in an area of 2000-5000 square metres where the first steps are being taken towards a "golf game" atmosphere. This consists of multiple holes and tees towards different flags in one or more large chipping and putting greens.
The Golf game on such a facility can be played with soft balls and a hitting cage can be added. Add a small clubhouse and one has created a golf leisure facility that can exist by itself on a commercial or golf school basis.
When professionally designed by an architect players will be allowed a true feel for Golf. European Golf is associated with a number of architects and designers who together have a global experience on the use of synthetic and natural grass for these type of facilities.
Step 4 - 3-6-9 Hole Course
The first step into the true game of Golf is "playing" the course. More and more clubs, private investors and golf teachers have a variety of reasons for opening a short game course facility in natural grass or in synthetic golf turf for greens and tees. Using synthetic golf turf can prolong the season and significantly reduce the cost in maintenance, watering, chemical application and heating.
These type of facilities are usually being build for two reasons:
A new facility: To promote the sport of golf in a certain area and thus finding a way to get more people to play golf with very low entry barriers. Typically this is a Private or Public Pay & Play type of facility which can also include a driving range and restaurant.
A practice facility: Next to an 18 hole course to prolong the season for teaching and to increase restaurant, shop sales and teaching clinic revenue.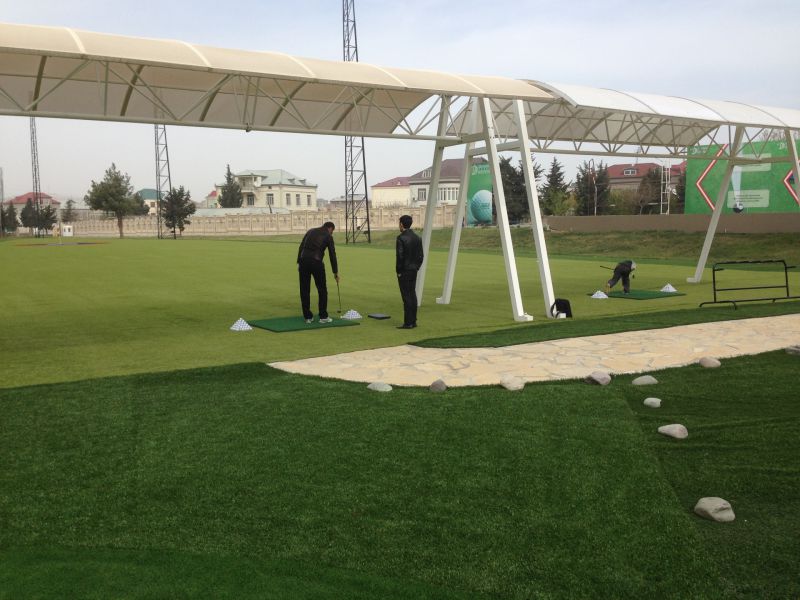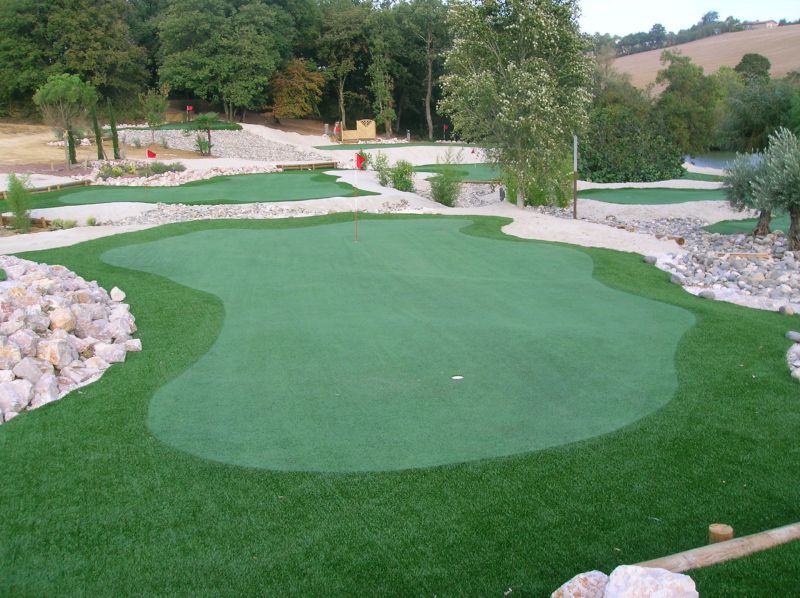 Step 5 - 18 Hole Course (Championship)
Playing an 18 hole course, 3* or 5* should eventually be the goal of any Golf player worldwide. Although the trend is much more towards playing a 9 hole game in Western Europe there is still a global demand for an 18 hole course. How and what one should build depends very much on the strategy that the new owners wishes to follow to make their course work.
Should it attract more local golfers to start golf? Does it need to attract high end golf tourism? Is it aimed towards the professional European Tour? These underlying choices determine the route to follow, the choice of architect, the choice of natural grass available and the choice of the constructor.
European Golf within the European Golf Group has a network of high and medium end architects and builders to suit your wishes.
Special projects - Footgolf
The European Golf Group has worked on various foot golf courses. Both in natural and synthetic turf. Integrated within regular golf courses and a stand alone projects. Foot golf is growing rapidly along side golf. It has the capability to create additional revenue streams for existing and new golf facilities as well as making use of its leisure potential as a stand alone facility.
Taken seriously foot golf requires a dedicated approach. Though having enough similarities with golf additional elements come into play where design; obstacles; course strategy is concerned. The European golf group has experience in designing the next generation foot golf courses, setting new standards in player experience.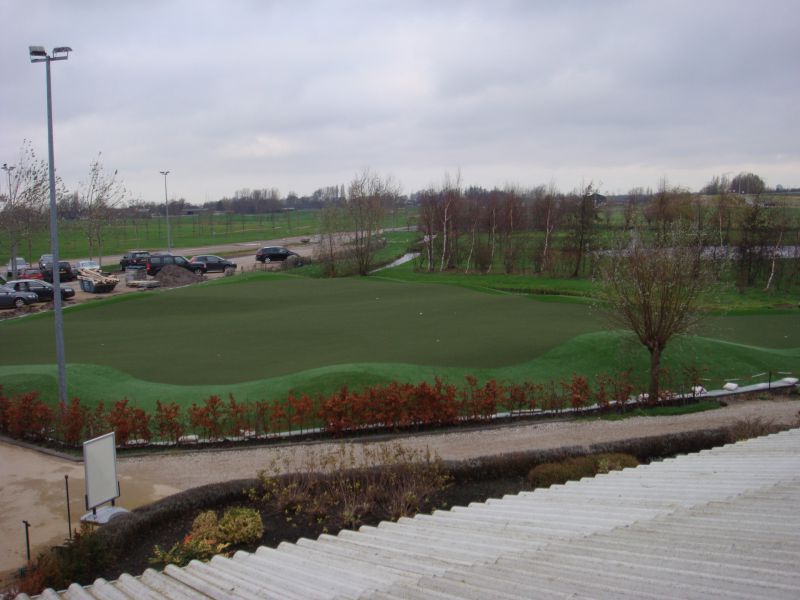 ARE YOU EAGER TO LEARN MORE?
Contact us and we will get back to you within 24 hours.
Would you rather send us an email directly? You can reach us at info@europeangolfgroup.com.